* 10% OFF on Online Payments
* FREE Shipping On All Orders
* 100% Money Back Guarantee
Description
These silicone wonders stick to virtually anything (thanks to the magic of suction), turning a glass bowl, an aluminum pot, a ceramic roasting pan, and even a plastic Tupperware into instant storage.



The lids are available in 6 different sizes, for teeny bowls and mugs to large mixing bowls. If you're someone who joins in on a lot of potlucks, these are especially useful. 



KEY FEATURES

6 SIZES:

 

Each pack includes 6 different sizes to meet all your needs
HEAT-RESISTANT:

 

Can be safely used in Microwave, Dishwasher, Freezer
REUSABLE AND DURABLE:

 

Extra thick silicone is durable and will not tear or warp
COMPATIBLE:

 

They compatible with many container sizes and shapes
KEEPS FOOD FRESH:

 

Airtight Seal keeps food fresh longer and Prevents Spills
Availability:
Low in stock today
This item may become unavailable if someone else purchases it. Add it to cart to reserve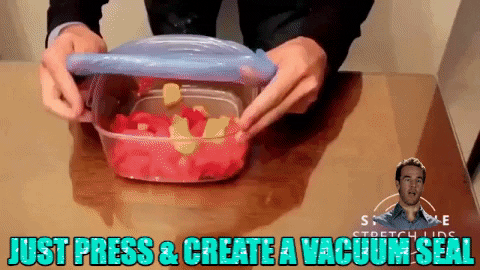 How useful are the Stretch & Fit Silicone Lids? Do they work? Are they versatile? Will I love them? Let's find out!

These silicone wonders stick to virtually anything (thanks to the magic of suction), turning a glass bowl, an aluminum pot, a ceramic roasting pan, and even a plastic tupperware into instant storage.

The lids are available in 6 different sizes, for teeny bowls and mugs to large mixing bowls. If you're someone who joins in on a lot of potlucks, kitty parties these are super useful. 
Silicone storage covers come in 6 different sizes meet most of your needs.
They're environmentally-friendly, eliminating the need to repeatedly buy the expensive plastic wrap.
Silicone tops are round yet stretchy enough to fit snugly over odd-shaped mugs, pots, cups & bowls.
Microwave-safe & heat-resistant to 232°C/450˚F so you can quickly reheat & enjoy delicious leftovers.
Features non-toxic, BPA Free, dishwasher-safe & leak-proof, air-tight seal so foods stay fresh.
The best gift idea for everyone especially moms!

Dimensions: You will find a size that fits all your mugs, pots, cups and bowls. 
Colour: Blue
You get 6 covers: 
1/ 2.6" = 6.5 cm (will stretch to 3.5" = 9 cm)
2/ 3.7" = 9.5 cm (will stretch to 5" = 13 cm)
3/ 4.5" = 11.5 cm (will stretch to 6" = 15 cm)
4/ 5.7" = 14.5 cm (will stretch to 8" = 20 cm)
5/ 6.5" = 16.5 cm (will stretch to 9" = 23 cm)  
6/ 8.3" = 21 cm  (will stretch to 11" = 28 cm)


Payment & Security
Your payment information is processed securely. We do not store credit card details nor have access to your credit card information.
Customer Reviews
Write a Review
Ask a Question
10/02/2020
Lina M.
India
I recommend this product
Stretchable silicon food cover lids
So bad it didn't feet well Wastage of time n money
09/08/2020
Claudine D.
India
I recommend this product
silicon foodcover
It does not stretch as shown
09/01/2020
Basharat A.
India
I recommend this product
Last Purchase
One cover was missing
09/01/2020
D S.
India
I recommend this product
Review
Not yet received the item
09/01/2020
Sonia G.
India
I recommend this product
Very useful
Good stretch and flexibility and easy to use.