Welcome back shoppers!
We hope all our reads have been helping you shop better and also turn into a better version of yourself!
Today's read is something to keep everybody: men, women, the ones in early or late 20's interested.
There are a few things that happen over a period of time, and can be kept in check or avoided with the right precautions or regime! One such thing that all of us face over time is 'Ageing'. As time moves us by, signs of ageing start to creep in. The very first sign of ageing shows up is in one's early 20's. YES! You read right, so if you're in your early 20's notice fine lines around your nose and mouth area, dark spots, droopy eye lids, and the sad dark circles! If you're not experiencing these signs, then trust us you're lucky and need to maintain your amazing skincare routine.
There are numerous ways to fight ageing! The process itself is called 'Anti Ageing'. Let's dive right into the top 5 ways to prevent your skin from ageing.
1. BEAUTY SLEEP. Yes! This is the very first step to avoid ageing, and trust us we're not mincing words. It is a well known fact that getting enough sleep is an important aspect in keeping our mind and body healthy and what's best? It costs absolutely nothing. Guys, remember one super important thing if you aren't getting 8-9 hours of sleep you're eventually going to look older than your age after a certain period of time. So make sure you get enough sleep!
2. WASH, TONE AND MOISTURIZE. No ladies, this is not just for you but for men as well. Invest into a good facial cleanser, toner and moisturizer, according to your skin type. Tip: Do not invest into any product that comprises of alcohol. Always check the ingredients in a product, they're mentioned behind the box. Wash, tone and moisturize your face and neck atleast two times a day, morning and before you crash. This process is super helpful for anti ageing, as it allows your skin cells to rejuvenate, helps in circulated blood for a natural glow and reduces pores.
3.Make sure to drink lots of water, atleast 2-3litres a day. This helps in fighting ageing and works miracles for skin. It is a natural nourishing substance and provides you with radiant glow which also helps you to look younger.
4.HEALTHY DIET. Do we even need to stress on this? It is the easiest thing to understand, whatever you put into your system reflects on your body. So make sure you put in healthy, nourishing, vitamin enriching food into your system, and observe the amazing results. Green leafy vegetables, vitamin enriched fruits, lean meats like chicken, fish etc, milk, lentils, healthy fats like pure ghee, oil, homemade butter are all foods that help you look young, fresh and radiant and fight signs of ageing.
5. This is a no brainer. Exercise is a sure shot way to anti ageing. Exercising or working out is one of the healthiest ways to flush out toxins from your system. In the work-life centered world today, people that have sedentary lifestyles tend to age faster than active people. As exercising helps you sweat, all the bad toxins get flushed out leaving you looking younger and glowing. It is also super important as it keeps you fit and healthy. Remember exercising or working out can go a long way in fighting ageing!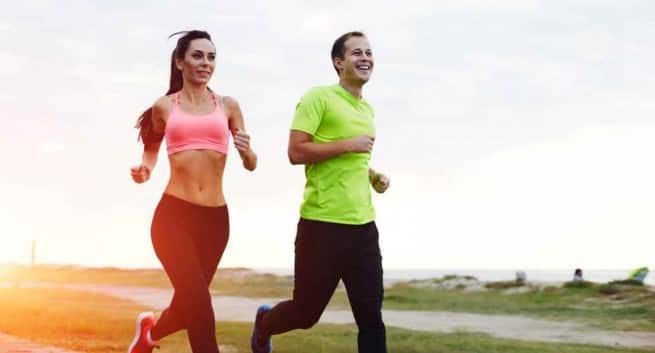 So guys, we hope these tips will get you through the stubborn wrinkles, dark circles and help you stay fresh as a daisy!
Let's give it a whirl, and start the fight against ageing today!