Greetings dear shoppers!
Welcome back to our reads. Today is all about getting the glam on. Did you know we all have differently set eyes? Some close, some apart, some slouching downwards or some pulled upwards! Today's read is going to focus on all those struggling to figure out the perfect eye makeup for Close Set Eyes! YES, there are a lot of struggles, leaving little to no room to play around shadows.
Before we dive into it, let's give y'all a visual of differently set eyes, for a easier understanding.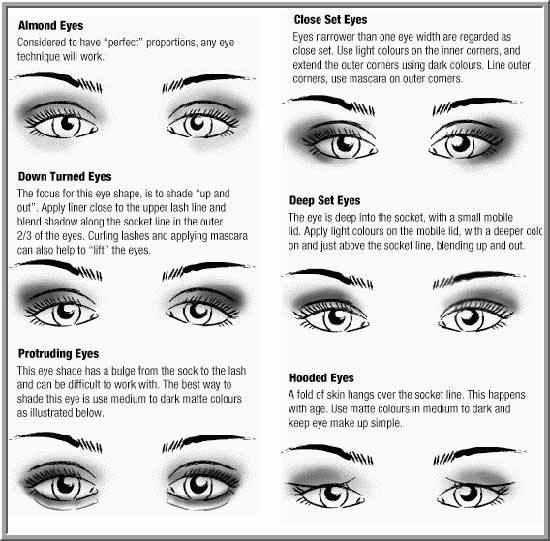 Since, today's read is focusing on Close Set Eye Makeup, allow us to help you understand what closely set eyes actually mean. Look straight in the mirror, if you notice that there's more space between the outer corner of your eye and the temple that between the inner corner and your nose, then you surely have closely set eyes. 
Now that we've this figured out, let's straight away dive into the top tips to ensure you've amazing eye makeup without struggling!
PRIME TIME: Prime your eyes using a good eye primer or a normal face primer. This not only ensures your makeup stays in place but, also increases the longevity of your makeup. Hell yeah, we don't want our makeup running down our face.
HIGHLIGHT: This is probably the "Glow" moment of every makeup routine, apply a light shade highlighter ie: a champagne gold, or a egg shell silver into your tear duct (inner corner) this will help create an illusion that makes your eyes look bigger and wider.
TRANSIT: Nope, we don't want to you travel, use a "Transition" shade (ie: light gray, beige, creams etc) first to create a base, before going for bolder colours, this will help you blend preventing harsh lines!
SMOKE IT UP, GIRL: Yes, believe it or not Smokey Eye Makeup makes a close set of eyes look stunning! Apply a dark eye shadow like shades of black or brown and if you don't want to go too dark, you could use a dark purple or blue on the outer corner of your eyes to give your eyes a wider look. Use a fluffy brush to blend away all the harsh edges!
LOW BLOW: Now that you've smoke up your lid, it's time to smoke up the lower lash line! To complete the eye look and to give it a fuller effect use a medium tone shade and use a packer brush to smoke it out. If you're looking for a super dramatic vibe, jump in and use a darker tone!
CUT CREASE: A stunning cut crease gives more definition and structure, thereby helping in achieving wider, bigger eyes! This step is definitely optional, and can take a lot of practice!
LINE UP: Apply a thick jet black liner to the top and the bottom lash line to complete this stunning look!
BATTING BATTING: The last step is the easiest we suppose? Apply generous amount of mascara for a dramatic look. If you've real thin or negligible lashes opt for false lashes for the desired look!
Phew, that sounds like too much work? Well, get on to it, it shall flow. We hope this read has helped you achieve a look you've been dying to master. Add on a stunning neutral lip colour or a matte lipstick and you're ready to roll in to the weekend jazz! Cheers!