Hello shoppers!
Hope you're killing it this season, with abundant happiness, peace, good health and dreams! If you're not, don't worry tomorrow's a good day too. Today's read is extremely special for all the women out there! The market is overflowing with so many products, that we're at a standstill when we shop unless something hits us hard.
But, there's one super important aspect of the beauty world that never tires a woman! Have you guess it yet? It's colourful, glossy, matte, and gives a sense of spark, whimsy to a certain outfit, or even mood. YESSS, it's the mighty nail lacquer! For all those still scratching their head, it's the array of stunning nail polishes!
Today's read focuses on the top 5 nail colours to don this winter season! The rules of fashion world are always followed according to seasons, whether it's summer, spring, autumn or winter. This winter we help you choose the best nail color, guaranteeing you a spot in the 'trendiest of them all'.
As we stop to give summer a thought, a certain palette of colours hit our head. Mostly oranges, yellows, hot pinks, corals, light turquoise blues etc. Similarly, winter also has a few colours that depict the feel of the season! Let's dive straight into the top 5 nail colours this winter!
Popping something up- TEALS. Oh yea, hello! Teals are the shade to don this winter. Now many of you must've stumbled across this question, 'why do we paint our nails dark in winter?' Well, according to many sources, seasons like rainy and winters cause a lot of accumulation of dirt under your nail bed, causing it to look darker. Donning darker nail colours during winter started to hide the dirt underneath, but today with all women making time for grooming light colours are also good enough. TEAL has crawled to number one this winter season, we're also inserting a few teal-winter looks for a good reference! Check it out.
The holidays- DARK REDS/MAROONS. Really? Was this a surprise guys? Dark reds/maroons have always been 'winter favourites'. Have you stepped out in dark clothes and glossy dark red nails? OOH, girl! It is definitely a hot colour this chilly season!
Nice and neutral- NUDES. The shade nude picked up as time kept moving on, (yes KimK, we're talking about you) well, nudes are available in a huge array today, different hues, different undertones! Go ahead pick whichever that you desire, and trust us you're going to slay this winter!
The frostbite-PURPLES. Yes darling! Purples have made a comeback this season, and offer you such versatility. Perfect for a pop colour this winter. We're also going to insert in a few references and inspirations this season.                                                                                                                                          
Mirror mirror- The CHROMES. Oh my, chromes are definitely to watch out. They're not just a winter favourite, but an all time favourite. Whether you do one single chrome nail, or all nails! You're bound to turn heads.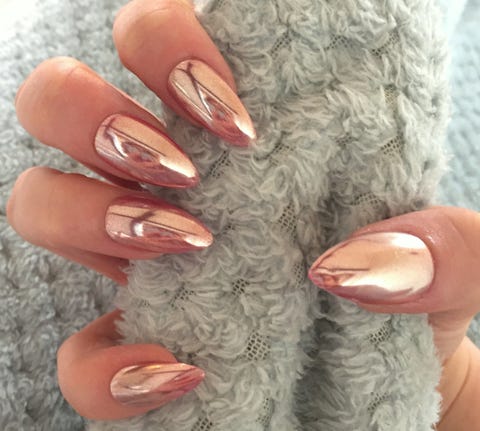 Winter is coming, shoppers! Prep yourself, gear up to slay this season! We hope this read has helped you visualize your winter perfect nails, and made choices easier for all.